Domain Collet Empreinte Brut NV Champagne
Sale!
Price
Earn up to 27 Points.
30 chf / bottle 75cl in box of 6
33 chf / single bottle 75cl
33.00 CHF TTC
Note from the wine maker: "Emblematic cuvée of the domaine, This cuvée is typical of our wine-making process. It is a blend of more than 10 wines with a predominance of chardonnay. 30% of the must was vinified in 300 litre oak barrels. This gives complexity, freshness and fineness."
Note from Stanislas Buffet: "Domain Collet works a lot with vinification in wood. For this particular cuvée, 30% of the must was vinified in oak. This gives roundness, fat and complexity."
Note the wine maker: "Colour : Pale yellow. Nose : Pleasant, fleshy, fruity notes of apples and pears with a slight hint of almonds. Palate : Fleshy attack, crisp fruit with an exotic tone. A silky and fine mouth. Fresh evolution with citrus accents. The whole is frank, fragant. A summer champagne."
Note from Stanislas Buffet: "The robe: Pale gold. Sustained effervescence with very thin bubbles.
The nose : moderate intensity, very elegant and fine with discreet woody notes. Light floral notes (white flowers) and white fruits.
The mouth : the first taste is fresh with a kind of roundness. Nice balance between acidity and sugar. Aromas range with white fruits (apple, pear)), floral notes (white flowers) and pineapple. The finish is fresh with a slight decline of the acidity, letting fruit aromas last to the end."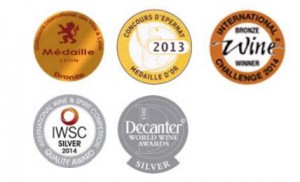 Champagne and food matching
As an aperitif, a white fish or grilled lobster.